Making a Contribution to Our Communities
Nestlé Waters North America calls more than 100 communities home, and we take great pride in the relationships we share with those who live in, work in, and govern those communities. We strive to become active participants in the communities where we operate, contributing both to the economic and social well being of those areas.
Our Economic Contribution
Each year, we contribute hundreds of millions of dollars in wages and benefits to the economies of those states in which we do business. We make capital improvements regularly and make charitable contributions that include funds and products.
As our business has expanded, we've cultivated close-knit partnerships with materials, transportation, maintenance and other suppliers in the states in which we operate. These area businesses and communities share in our success. For example, we typically spend at least $50 million with other businesses and suppliers in communities where we bottle spring water. When our business flourishes, so does employment at these local companies.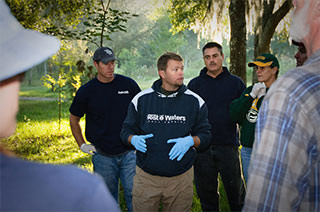 Our Good Neighbor Policy
What does it mean to be a good neighbor? For us at Nestlé Waters, it means:
Demonstrating integrity and accountability
Working collaboratively and sharing our passion for a clean planet
Supporting community development projects with product and financial donations, employment opportunities and participation in volunteer programs
Helping in times of need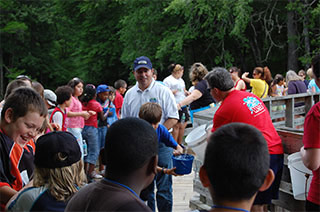 10 Ways We Put Our Words Into Action
Open Communication: Public forums, local websites, and community days are just a few of the ways that we keep open lines of communication with our neighbors.
Environmental Excellence: We strive to do right by the environment throughout our entire business cycle – from employing natural resource managers to reducing packaging to designing green facilities.
Responsible Spring Water Resource Management: Our long-term water monitoring helps to ensure that our use of the sites remains sustainable.
Water Resource Relations: In addition to managing our springs, our practices are designed to respect the health and diversity of the surrounding environment.
Sustainable Land Use: Because the spring sites we select are often in quiet, undeveloped settings, our spring facilities often serve to preserve large tracts of land in its natural state.
Traffic Mitigation: We work with local planning officials to conform to all traffic ordinances that apply to the area and the operation, and where possible and appropriate, take steps to improve the potential impacts.
Exemplary Employment Practices: Our employees are talented, action-oriented individuals who share our will-do attitude, our commitment to community, and respect for each other and the environment.
Water Education: We take a leadership role in teaching today's students – from elementary school to doctoral candidates – to appreciate and conserve water.
Emergency Relief: In times of emergencies, we're doing our part – providing helping hands and bottled water when a community's water supplies are interrupted.
Community Giving: We work with local communities to determine their specific needs. We've helped with emergency equipment and have provided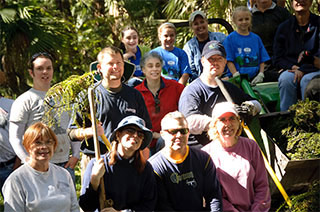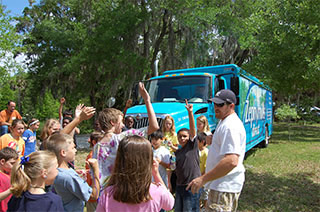 Project WET (Water Education for Teachers)
Committed to water education, Nestlé Waters North America began its national sponsorship of Project WET in 1998. Project WET is an international, interdisciplin ary water science and education program grounded in the following beliefs:
Water is important for everyone (for all water users)
Wise water management is crucial for providing tomorrow's children with social and economic stability
An early awareness of and respect for water resources can encourage a personal, lifelong commitment of responsibility and positive community participation
Nestlé Waters North America believes that through the water education program of Project WET, today's children will be better prepared to make informed decisions regarding water resources in the future.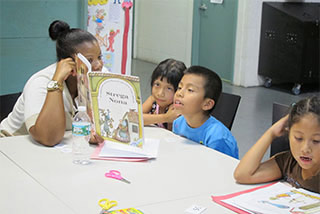 Reducing the Impact of Bottled Water Production
At Nestlé Waters North America, we take our responsibility toward the sustainable use of water resources seriously. Our commitment to the environment extends far beyond just water conservation, though; it is part of the fabric of every aspect of our business and operations.
Nestlé Waters: Water Is an Important and Fragile Resource
A Multi-Faceted Approach
Both nationally and globally, Nestlé Waters and Nestlé U.S.A. employ numerous programs and policies that reflect our passionate commitment to the health, safety, and sustainability of the environment and its natural resources.
Water Reduction
Our commitment to protecting one of the most valuable natural resources is woven into every aspect of our business operations and culture. Worldwide, Nestlé Waters works diligently to monitor the amount of freshwater used for our products. Even as demand for our products has increased, we still draw only 0.003 percent of the world's available freshwater sources.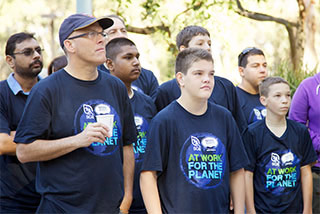 Package Reduction
Not only do we monitor the water we use for our products, we also pay close attention to the packaging that we use to deliver it to our customers, and recycle once the packaging has been used.
Green Buildings
Even the buildings and factories where we produce our products meet the high environmental standards that we continually set for ourselves. We strive to construct and operate facilities with a "gentle footprint" that reduce negative effects on both the environment and their occupants.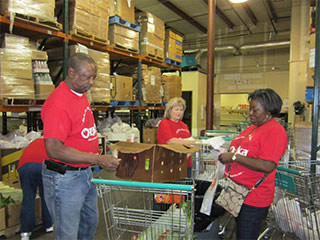 Nestlé Environmental Management System (NEMS)
For more than 10 years Nestlé has employed its signature system to meet and exceed high standards of environmental protection and sustainability worldwide.
Distinctions and Leadership
Don't just take our word for it – read about the recognition that leading environmental organizations have given Nestlé Waters North America for our environmental leadership.
Nestlé Waters North America was presented with Keep America Beautiful's 2010 Vision for America Award for leadership in source reduction, innovative recycling practices, resource stewardship and community involvement.
In 2011, Nestlé was named the winner of the Stockholm Industry Water Award for leadership to improve water management – something Nestlé Waters North America played a key role in making happen.
We're incredibly proud to operate 10 U.S. Green Building Council LEED-certified facilities, including nine production facilities and our headquarters building in Stamford, Connecticut, which was awarded LEED Gold certification in 2011.
In 2014, Nestlé Waters North America CEO Tim Brown was presented with the "Heart of Gold" award in Stamford for his leadership and support of NWNA's employee volunteering programs and the positive impact they've made on both communities and the environment alike.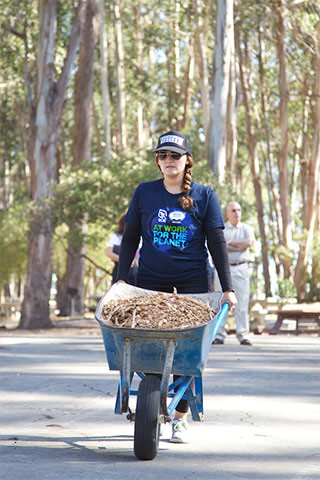 We sustainably manage more than 14,000 acres of natural, open-space watershed area around our 40 spring sites. At the sites, we carefully monitor water levels to ensure that they're being replenished. We strive to manage our spring water sources not just for today, but for generations to come.
How Much Water Do We Use?
If all the water in North America fit into a glass, the water used to make bottled water would be less than a drop. Selecting spring water sources is a careful, thorough process. We perform a variety of studies and communicate openly with the communities in which we operate. Water resource management of our spring sources and preserving the watershed where they are located are important to us.
Environmental Metrics for Bottled Water Manufacturing Facilities
Focusing on water sustainability has helped us make key improvements to our facilities. From optimizing our environmental footprint through time-tested methods to researching and piloting innovative approaches to energy and waste reduction, we take our responsibility to the environment very seriously. The facts about our bottled water production improvements speak for themselves:
During the past 18 years, we've reduced the PET plastic content of our half-liter water bottles by 60 percent, saving more than three billions pounds of plastic.
Since 2010, we've reduced our use of corrugated material by nearly 25,000 tons – that's 25 percent.
All in all, we're extremely efficient with our water use, and are one of the most efficient producers in the industry. And, while our production volume continues to rise, our optimization efforts have actually led to a 3.2 percent reduction of water per unit produced from 2008-2012.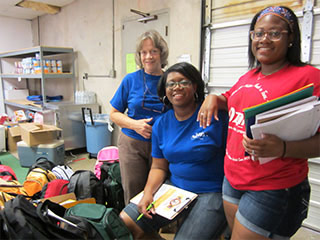 Committed to Reducing Our Footprint
At every step in our bottled water production process we look for ways to trim our carbon footprint. For instance, we produce 98% of our bottles in our own plants – removing the need to transport empty bottles. This alone saves an estimated 6.6 million gallons of fuel, while eliminating 6,200 metric tons of CO2 emissions annually. Plus, by implementing a regional distribution approach, we now transport our water an average of just 350 miles – and we're working to further reduce our shipping miles and emissions.
Our Commitment to Reduce Carbon Emissions
We're constantly upgrading our existing facilities (and designing new ones) to reduce our GHG emissions, save on electricity costs and reduce air pollution. They're improvements that are helping us to achieve impressive results. Since 2007, we've reduced our emissions per liter produced by 19.2 percent across our value chain – and with ambitious plans in place to increase our reliance on wind, solar and biomass energy, we're far from finished.
Doing More Together
Our commitment to sustainability – and recycling – is something we share with many others. That's why we're also partnering with a variety of organizations to spread the word. See a list of our partners here.